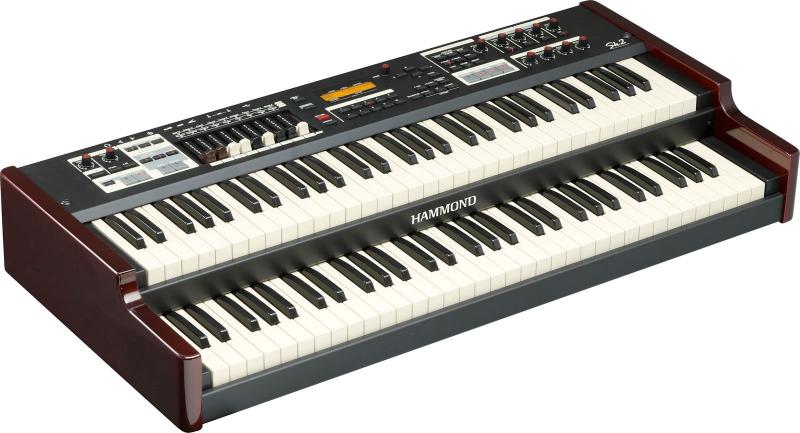 Sorry, the product Hammond SK2 is not available anymore on Studio Economik's website.
Interested in other Keyboards products?

Do you want to see other Hammond products?

We have a few suggestions you could be interested in;
The Essential Keyboards You Need PLUS A Genuine HAMMOND Organ

What's better than a Hammond B-3 you can tuck under your arm Two of them - two keyboards, that is. The Hammond SK2 packs dual 61-note keyboards - so you can play it as a two-manual organ, or assign the Drawbar/Extra Voice divisions to your choice of keyboard. With onboard digital Leslie rotary speaker emulation, acoustic and electric pianos, clavs, wind instruments, and even accordion, the SK2 is effectively a B-3 in a box (albeit, a small one). Weighing in at under 36 pounds, this featherweight is a heavyweight when it comes to genuine Hammond sound.

Speaking of genuine Hammond sounds, most purists insist on the real thing. The SK2 walks like a Hammond - and talks like a Hammond. It's just several hundred pounds lighter and fits in your Mini. The Drawbar section is a complete Hammond Organ with all the functions: real Mechanical Drawbars, Chorus Vibrato, Touch-Response Percussion, and of course that delicious Digital Leslie. Hammond's VASE III digital tone-wheel sound generators deliver voicings so convincing, you'll be looking around for a hidden Leslie cabinet.

Vx and Farf combo organ models are also onboard, as well as an assortment of fine classical Pipe Organ voices derived from Hammond's 935 Church Organ. Acoustic and Electric Pianos, Clavs, Accordions, Vintage String Synth, Wind Instruments, and Tuned Percussion round out the soundset.

If you've always lusted after those swirluptuous vintage organ tones, but don't have a road crew and a tractor-trailer, now's your chance. Hook up with the Hammond SK2 and give your music some lovin'.
Sound generator - organ section: 2 x VASE III digital tone-wheels, transistor organ and pipe organ; extra voice section: VASE III
Polyphony: manual (except pipe organ): 61 notes; pedal (except pipe organ): 8 notes; maximum (on pipe organ): 63 notes; Extra Voice section: 63 notes
Keyboards: 2 x C1 to C6, 61-key
Drawbars: 9 pitches, assignable for upper, pedal, lower
Effects: Vibrato and Chorus, Overdrive, Multi Effects (8 Programs), Reverb (Digital, 11 Programs)
Equalizer: Organ: bass, mid (sweep), treble, tone; Extra Voice: bass, mid (sweep), treble
Master eq: bass, mid gain, mid frequency, treble
Controllers: Volumes: Master Volume, Music Volume, Extra Voice Volume; Switch: Power on/off
Music player: File Format: WAV (44.1Khz, 16bit, stereo), MP3 (44.1Khz, 128kbps, stereo); Control: Song, play/pause
MIDI: 9 templates; External Zones: 3 Zones, assignable to any keyboard
Storage: USB flash drive
Sound Engine Type(s) Modeling
Number of Keys 61 (x2)
Type of Keys Waterfall
Other Controllers 9 x Drawbars
Polyphony Full
Wave Memory No Wave Memory
Expansion No Expansion
Number of Effects 8
Effects Types Lesie, Vibrato, Chorus, Overdrive, Reverb, Sustain
Arpeggiator No
Sampling No
Audio Playback 16-bit/44.1kHz WAV, 128kbps MP3
MIDI Sequencer No Sequencer
USB Yes (memory storage only)
Number of Audio Inputs 0
Audio Input Types No Audio Inputs
Number of Audio Outputs 3
Audio Output Types 2 x TS, 1 x TRS (Headphone)
Number of Digital Inputs 0
Digital Input Types No Digital Inputs
Number of Digital Outputs 0
Digital Output Types No Digital Outputs
MIDI I/O 2 x In, 1 x Out
Pedal Inputs Expression, footswitch, damper
Height 6.75"
Width 37.25"
Depth 17.825"
Weight 35.5 lbs
Power Supply AC Adaptor AD3-1250
Manufacturer Part Number 002-SK2